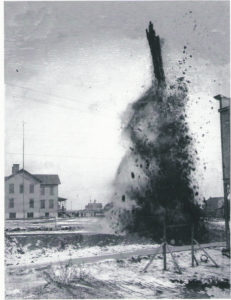 In 1905, Manistique City Council passed a resolution to bond for water and sewer. A 16-inch wooden pipe was run from Brewery Dam on the Indian River to Weston Avenue. The below picture is from November 1905 on Cedar street, showing the blasting involved to install sewer and water lines.
Originally the water supply for Manistique was from artisan wells drilled at different points within the city.
The above picture shows how wells were drilled. Water had to be hauled from the artisan wells to the homes for cooking, drinking, and washing. Several draymen hauled water to residents, hotels, and businesses. Mondays, being wash days, kept the draymen very busy. Read More...